Wish you were better at journaling? Struggling to do and keep the daily rituals you know would change your life?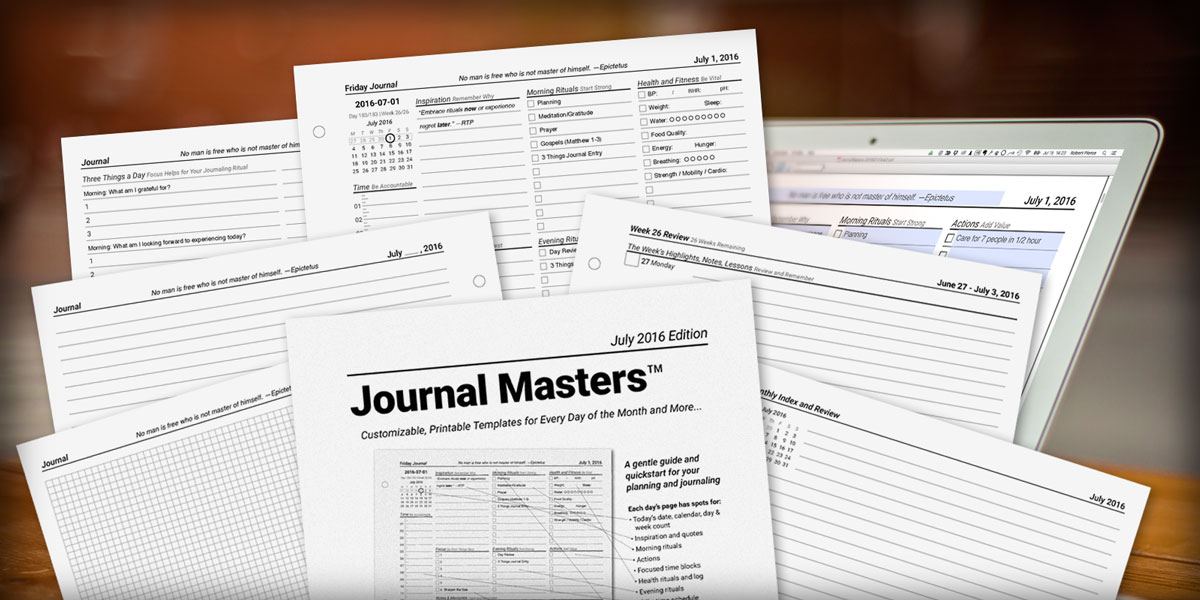 It's time to try the Journal Masters way.
For people that are committed to growing there is no better tool and practice than journaling.
We live in the age of marvelous technologies that do well at certain things, like keeping track of lists, organizing information and tracking projects. But for reflection and personal growth, there's no substitute for the ancient and tested practice of hand writing in a paper journal.
Unfortunately, there are some challenges to hand writing in a journal every day and we're tempted to revert back to our electronic devices.
For over 30 years I've tried and used almost every type of personal productivity and journaling system that you could find; including including many hand-built solutions. Over the years I've honed and improved a system for myself that really works. I've come up with a system and format that has helped me successfully improve my daily journaling and rituals and I think it will help you too.
You could think of it as hiring me to design you a custom journal every month for just a few dollars. You may not have the time or tools to do it yourself and so it makes sense to spend a little bit of money to be able to just download your pre-built journal pages for the month. Give it a try for free.
Customizable to meet your needs
Formatted templates give you structure for success. Customize your own rituals, inspirational messages and personalizations on your computer before you print your journal.
Personalize and Print
You can add your name and other personalizations you want to appear on every page before printing. Make it yours before it ever hits the printed page.
Some tracks to run on
Avoid the infamous "blank page" syndrome with enough structure to get you going every day. All the important information and structure is there for every day before you ever start your rituals. Focus on just the rituals and activities that are best for your life.
An important physical resource for posterity
At the end of the month you have a physical book with your best daily thinking, writing, notes to review and remember. I can't tell you how many "journals" I started on my computer over the years. There's a few I can find, but not without a search. I can tell you for sure I can reach behind me and pick my handwritten journal off the shelf and be reading or reviewing my journal within seconds. There's nothing quite like touching and seeing your own written notes and thoughts.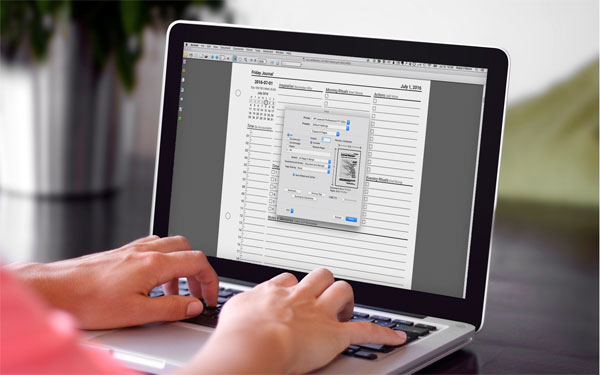 Getting Started with Journal Masters
Download the appropriate Journal Masters file to your computer.

There are currently three versions for each month of the year:
Headstart Version: A few rituals, actions, and inspirations are pre-filled each day to get you started
Blank Version: All the editable form fields are blank, ready for you to customize to your needs.
Sample Version: This is a watermarked version of the month's journal designed to be freely distributable to your friends or family. Please feel to share this version, but not the Headstart or Blank versions.
Open the Journal Masters file and add global personalizations and daily customizations to the pages.
For best results use Adobe's free Acrobat Reader to open your journal file and make modifications. If you use an alternate PDF viewer or open it in your browser, you'll probably find formatting of the custom text fields will be messed up.
There are two global personalization fields on each page; one in the header and one in the footer. Here you can enter things like "This journal belongs to...", or anything you want to appear on the page of every day that month.
Each section of the main (Right hand) journal page has customization fields for that day. If you want to repeat the same text multiple days just copy and paste.
Select a back side (LH) template from pages 42-45 and print 40 copies of it.
There are currently four styles to choose from: lined, lined columns, grid, and open. Of course could also skip this step and have completely blank back sides, but you'll lose the personalization features.
Print pages 2-38 on the back side of the LH pages you just printed You'll need to flip and position the printed pages correctly for your particular printer).
Print out additonal lined (RH) journal pages on page 41 as desired for days when you get on a writing roll.
Hole punch the sheets and put them in a binder or portfolio of your choosing.
I currently prefer a simple simple two-pocket folder for each month, but I've use all kinds from the fanciest to simplest. Use what works for you.
If you don't already have a simple three-hole punch, I'd recommend getting one. If not, there are punch guides on each page to single punch them if needed.
You're off to the races!
If you have any questions or suggestions for improvement drop me a line or use the Connect form.